Pisa Tourist Information
What to see and where to stay in Pisa, Italy.

Pisa is, of course, famous first and foremost for its "leaning tower", but the entire architectural complex on the Campo dei Miracoli, of which the tower is a part, is extremely interesting and attractive. Pisa is situated on the Arno, six miles from the sea coast of Tuscany, Italy. The walks along the banks of Arno here are as beautiful as in Florence, if not more so, and the town is packed with architectural gems. There are two important festivals, both taking place in June:

Palio of San Ranieri on 17 June - information
Palio of San Ranieri on 17 June (the day of St. Ranieri, patron saint of Pisa), the four districts of Pisa (San Martino, San Francesco, Sant'Antonio, and Santa Maria) compete in a boat race, with each boat containing eight oarsmen, on the Arno for the "paliotto", the prize. The race is held on the Arno along an upstream stretch of 2 km. On the night before, the famous Luminara is held in which the Pisans hang thousands of candles from the buildings along the river. Thousands of locals crowd along the banks of the Arno to see the fireworks at midnight.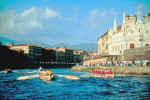 Gioco del Ponte on the last Sunday of June - information
Gioco del Ponte (Battle of the Bridge) on the last Sunday of June when teams from the two banks of the Arno, Tramontana (north) and Mezzogiorno (south) grapple with one another on the Mezzo Bridge. The six teams from the two banks challenge each other to push a 70 ton cart on a 50 meter rail over the opponent's line.

The Gioco itself is preceded by a historical procession with participants wearin armour and historical costumes (around 750 in Spanish style) and with the banners of the participating teams of the four quarters of Pisa. The procession starts around 4 to 5 pm. The gioco starts at 7 pm.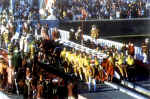 Click here for accommodations in and around Pisa - online reservation.
Pisa Accommodations © ammonet InfoTech 2005 - 20222